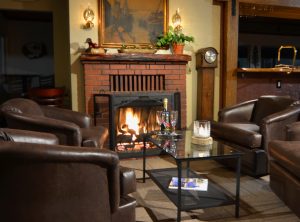 Sit back by the fire and enjoy what is truly the Best View on Big Bear Lake. Sip a martini, an original Gin Cocktail or try one of our many beers or wines in casual, yet classic, tavern charm. Enjoy live music in our piano lounge, every weekend, featuring the Piano Artistry of Mike Cross and friends. Gaze at a breathtaking sunset and glistening lake, and you may even spot an eagle! We offer a Full Bar and Authentic Santa Maria BBQ cooked over a Live Red Oak Fire. Savor aged Tri-tip coupled with pinquito beans from the California Central Valley. Pair that with a fine Pinot Noir and let the memories begin. When you prefer relaxing out in the fresh mountain air, kick back on our new Juniper Lakeside Terrace (coming in Spring). We can also produce a spectacular shoreline wedding on Big Bear Lake.
History
Our mountain top valley has bee the summer home of the Serrano Indians for over 2,500 years. Coming from the Shoshone tribe, our local Serrano Indians were known for their basket making abilities among other things. The Spanish named the Shoshone living in the area Serrano or Highlander. The Serrano's called the area Yahavit or The Pine Place. We respect the Serrano Indians and the peaceful ways and are proud to be associated with their Yahavit or Pine Place.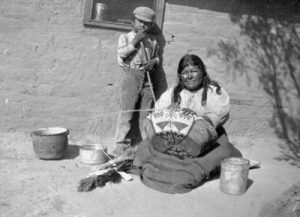 As you gaze around this area please take note of the very old Juniper trees, as a couple of them have been here for hundreds of years. One can envision the Serranos sitting under these trees and doing their basket weaving. Of course, in our day Juniper berries are also used in the making of Gin, however, Gin is made from the bush berries and not the tree berries. We do also offer a very nice Juniper Tea for you to try.
The Californios were Hispanic people native to California who culturally or genetically descended from the Spanish community that has existed in California since 1683. The Vaquero (from the Spanish word for "cowherd") was the original American cowboy that livestock herders were some of the world's best horsemen.
Which brings us to the Santa Maria barbeque that we offer you. The wealthy ranch owners kept the best cuts of meats for themselves or for market, but the Vaquero found one cut of meat that they could have, and when properly aged was a very tender and flavorful cut of meat. This was known as "Tri-tip" and this 21 day aged beef with our Tavern dry rub seasoning is what we offer you in the traditional way, this is, grilled on a red oak fire.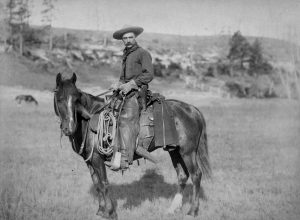 Traditionally the meal consists of Tri-tip, Pinquito beans (grown only in Central California), garlic bread and roasted ear of corn. As an appetizer be sure to try the garlic-butter, grill-fired Artichoke with our Tavern dipping sauce. Pair this with our California cheese platter offering and a bottle of wine from the Central Coast region.
So sit back and enjoy our colorful piece of California know today as Big Bear Lake and share great times with friends and family. For a fine dining experience try The Pines Lakefront right next door.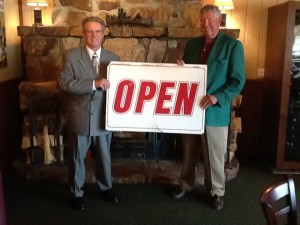 Your hosts – Dr. Jerry Lemke and John Isaksen